Step back in time to a more leisurely age and holiday in a historic Rangitoto bach. For the first time in over 100 years you can book a bach and stay on Auckland's iconic volcanic island.
Since the 1920s the baches on Rangitoto Island have been available to only a few families but now you too can experience bach life. Three of these historic baches have been lovingly restored in keeping with their age, still self contained but with the convenience of solar power, Gas cookers, solar fridges and chemical toilets. There are currently three baches available to rent on Rangitoto – Bach 78 and Bach 114 are located at Islington bay and Bach 52 is located at Rangitoto Wharf. 
This classic Rangitoto Bach is opposite the Islington Bay Wharf, built in the 1920s it combines combines the tranquility of the past with modern convenience. It has 2 bedrooms, gas cooking and solar powered lights. Look out the window and watch the mullet jump only metres away.
To find out more information and to book your stay at Bach 78
Bach 114 is the larger of the two with 2 bedrooms a large dining/sitting room and a light spacious sun-porch with additional beds. Gas cooking is installed and solar panels operate the lighting system. Totally 'off grid', this 1930s bach is situated amongst mature Pohutukawa.
To find out more information and to book your stay at Bach 114
Bach 52 is a historic holiday home located near the start of the summit track and Rangitoto Wharf, 35 minutes by ferry from downtown Auckland. Built in the 1920s, this bach combines history with modern convenience of gas cooking and solar lights.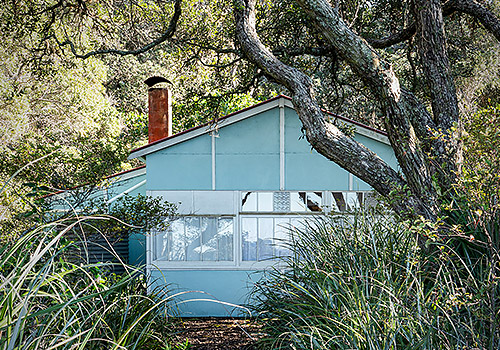 To find out more information and to book your stay at Bach 52
Explore the rugged coastline, watch the sunset from the summit, experience the abundant birdlife or simply sit and soak up the tranquillity of a bygone age.